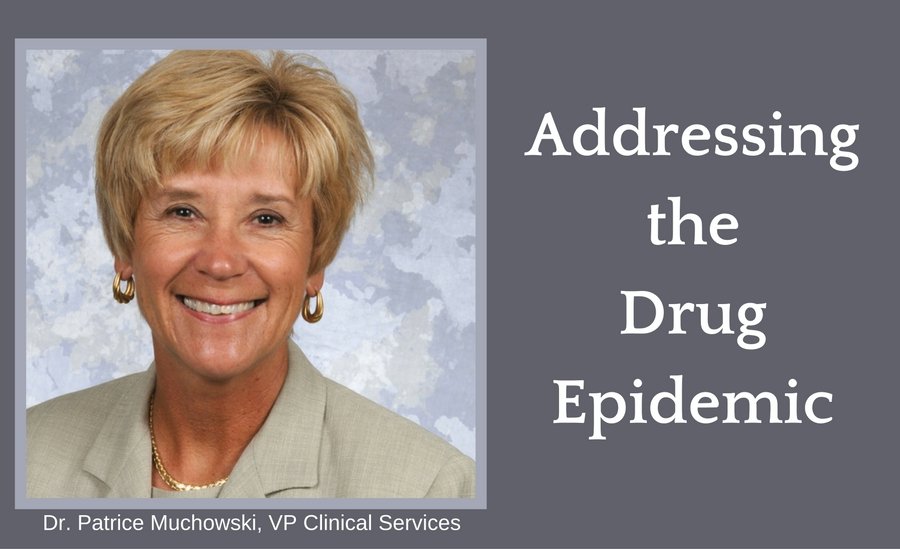 07 Nov

Addressing the Drug Epidemic
Dr. Patrice M. Muchowski, Vice President of Clinical Services
By: Jennifer Daltorio
In the past year, medical and government institutions alike have responded to the drug epidemic plaguing the nation. Their attention to the health crisis has resulted in several significant advancements:
In March, the CDC issued guidelines for primary care physicians on how to prescribe opioids to individuals with chronic pain.
These guidelines cautioned against prescribing opioids before attempting non-pharmacological and non-opioid treatments. They also discouraged using opioids as a stand-alone remedy. The recommendations also detail preferred opioid treatment strategies, as well as methods for monitoring and addressing risk of harm with patients.1
Massachusetts Governor Charlie Baker signed legislation, also in March, that aims to prevent new cases of prescription drug misuse.
The law requires:
Prescribers to evaluate patient risk for addiction and issue written pain-management agreements
An implemented 7-day limitation on all first-time opioid prescriptions, unless prescribers document a medical reason for exemption
The Department of Public Health to monitor and inform doctors annually if they've exceeded the average opioid prescription rate for their specialty. 2
In May, The Food and Drug Administration approved a buprenorphine implant for opioid-related maintenance therapy. 3
Buprenorphine is a medication that acts on the same brain receptors as opiates like heroin or morphine. A partial agonist, buprenorphine reduces cravings while preventing the user from becoming high.
While originally approved by the FDA in 2002,4 buprenorphine was only produced as an oral medication which could be lost, forgotten, or stolen. An implant treatment option addresses these short-comings and provides patients with six months constant, worry-free relief.
In July, the Comprehensive Addiction and Recovery Act was instated.
On July 13th, the Senate passed CARA, marking full Congressional approval for the bill. 5 Just over a week later, President Obama signed the measure into law on July 22nd despite calls for significantly increased funding.6
Financing disagreements aside, CARA is slated to have an immediate impact on the opioid crisis by expanding treatment options and supporting research initiatives.
In August, Massachusetts announced an improved Prescription Drug Monitoring Program
The revamped PDMP, known as the Massachusetts Prescription Awareness Tool or MassPAT, was announced on August 22nd. In addition to being more user-friendly, the MassPAT system has more capabilities:

Drugs with potential for misuse or addiction are tracked
Doctors can view patient prescription history to avoid over-prescribing
Massachusetts physicians can access medical information from Rhode Island, Connecticut, Vermont, and New York practices
Previous policy only required a PDMP check when doctors first prescribed a drug. However, as of October 15th, all doctors are required to check the system before prescribing any Schedule II or Schedule III drugs.7
Unified state-wide opioid training for clinicians also announced on August 22nd
Building on earlier partnerships with the state's dental and medical schools, the state has partnered with clinicians' organizations to provide uniform opioid training for medical professionals within diverse specialties.
Participating in the new initiative are the Massachusetts League of Community Health Centers, the Massachusetts Association of Physician Assistants, and the Massachusetts Coalition of Nurse Practitioners. The cross-institutional training will enable caregivers to:

Identify and evaluate patient risk of developing a substance use disorder
Recommend safe pain management treatments
Thoroughly understand patient medical records, family history, and PDMP records to assess individual risk
The goal of standardized and universal training is to reduce the rate of new substance use disorders. According to Governor Baker's office, the agreement is the first of its kind nationally.8
These policy changes are to be applauded, as they make significant strides in increasing access to treatment as well as reducing the availability of prescription opioids. While these are positive steps forward, the progress must continue from here.
ADDRESSING THE CURRENT EPIDEMIC
"There is no one cause for the epidemic," says Dr. Patrice M. Muchowski, Vice President of Clinical Services at AdCare, a comprehensive provider of drug and alcohol treatment. Dr. Muchowski has specialized in addiction treatment for several decades and has a unique understanding of how we've arrived at this point.
"The current drug crisis is complex," says Dr. Muchowski. "There is no one route that leads to addiction, and there won't be one method of intervention to prevent this in the future."
Helping Those Who are Struggling
In order to help, it is crucial to see beyond the statistics. The 21.5 million Americans struggling with a substance use disorder are all PEOPLE, individuals with goals and dreams that are often shattered because of their disease. These individuals did not 'choose' to have a devastating and life-threatening health problem. Even individuals who don't seek abstinence from drugs are looking for 'safe' and 'normal' ways to use, because life without the substance seems impossible.
Patients entering AdCare, and treatment centers across the country, come from all walks of life. While all have reached the crossroads of an addiction, the paths that led them to this point vary. For some, the normalcy of substances and their accessibility led to a downward spiral. For others, increased use of legal substances led to physical and/or psychological dependence. Others suffered from medical conditions and were issued prescriptions that later become problematic. Others still turned to alcohol or drugs as a way to cope with life's harsh realities: trauma, mental illness, poverty, and chronic pain to name a few.
Regardless of the initial cause, the outcome is the same. Prolonged use of alcohol and drugs alters brain chemistry, changing neural pathways and functionality in ways that can be permanent. These changes in brain chemistry have led to understanding addiction not as a moral short-coming, but as a chronic disease.
PREVENTING A FUTURE EPIDEMIC
Treating Addiction like Other Chronic Diseases
Now that it is understood as a chronic condition, it is imperative to provide treatment for addiction in the same manner as other chronic diseases.  For instance, early and regular screenings are vital so intervention can occur at the earliest possible stage.
"I would like to see alcohol and drug assessment and intervention integrated into mainstream healthcare," says Dr. Muchowski. "Ideally, your primary care physician should be the first line of defense. He or she should have the knowledge and resources to identify a potential substance use disorder and step in before it becomes a problem."
Conducting alcohol and drug assessments, urine toxicology tests, and other lab tests during an annual physical would enable primary care doctors to identify early signs of problematic use. It would also provide an opportunity for an open, judgement-free dialogue between patient and physician.
Unlike other chronic diseases, individuals struggling with substance use are often blamed when problems resurface, despite the fact that re-occurrence is characteristic of chronic conditions. Incorporating early screenings and regular follow-up assessments with one's primary care would help eradicate the stigma and misinformation surrounding addiction.
Chronic conditions require ongoing and life-long treatment, and this is no different for those with a substance use disorder. The type, intensity, and frequency of treatment will vary as time goes on, but it is vital that individuals have access to care, as treatment allows individuals to lead full, productive lives.
By utilizing a pre-existing and universal health resource, prevention and intervention efforts could be expanded. With increased opportunity for early detection, more individuals could avoid altered brain chemistry. This in turn would drastically reduce the number of people in need of life-long treatment.
Reforming Current Healthcare Practices
In addition to expanding treatment resources and the breadth of health institutions involved in addiction care, current medical practices need to be changed. Over the past decade, doctors and other medical practitioners have over-prescribed dangerous opioid-based medications. This is largely a result of misleading marketing and misinformation from drug companies, who promoted their products as safe and effective for a wide array of health problems.  The result: a devastating number of people are struggling with prescription drug use. And many who began with prescription drugs later turned to heroin when prescriptions were no longer available.
"The earlier we begin educating future prescribers and medical professionals about alcohol and drug addiction, the better," says Dr. Muchowski. "Prescriptions are often seen as solutions, but they can also cause significant harm. The medical community at large needs to be aware of these risks, as well as the appropriate circumstances and methods for prescribing potentially harmful drugs."
The Impact of Availability
The over-prescribing and increased availability of opioids has caused irreparable harm to countless individuals and families. Yet drug availability may increase in Massachusetts, with the upcoming vote on the legalization of marijuana. It is an issue Dr. Muchowski has a firm stance on.
"For many people, legalization implies that the substance is safe," says Dr. Muchowski. "People have a more difficult time seeing their use as problematic, even when it puts their safety at risk."
Increased availability of a substance (in this case, through legalization) results in increased use. Elevated use increases the likelihood of at-risk individuals developing a substance use disorder, as it did with the over-prescribing of opioids.
While the long-term impact of legalized recreational marijuana is unknown, reports from Colorado on the short-term impact demonstrate significant consequences of expanded availability. This, in conjunction with the resulting crisis caused in part by increased opioid availability, should give us pause.
SUMMARY
The current opioid crisis has taught us important lessons. It reinforced the knowledge that addiction is a chronic disease with no immunity. The crisis has demonstrated how increased drug potency accelerates the progression of substance use disorders. It has also illuminated the breadth of resources needed to address substance use: prevention programs, intervention resources, and treatment programs.
While prevention and intervention initiatives continue to be strengthened, treatment is already available for those who are struggling. We are here, ready to meet you were you are. We are here, with our hand extended, to help you regain your life, your health, and your happiness.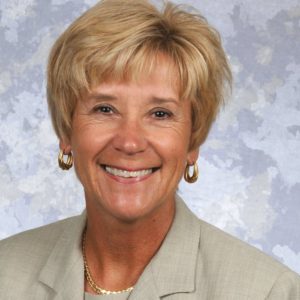 Patrice M. Muchowski, Sc.D., Vice President of Clinical Services since 1988, is a licensed psychologist, an associate in the University of Massachusetts Medical School's Department of Psychiatry and a clinical instructor in Harvard University's Department of Psychology.
Dr. Muchowski holds a doctor of science degree and a master's of science degree from Boston University, in addition to the following professional certifications: National Certified Addiction Counselor (NAADAC), Certified Alcohol and Drug Abuse Counselor (CADAC), Master Addictions Counselor (MAC), and Proficiency in the Treatment of Alcohol and other Psychoactive Substance Use Disorders (APA).
Dr. Muchowski has worked in both inpatient and outpatient settings, with a specialization in the treatment of women with addiction and dual diagnosis
Save