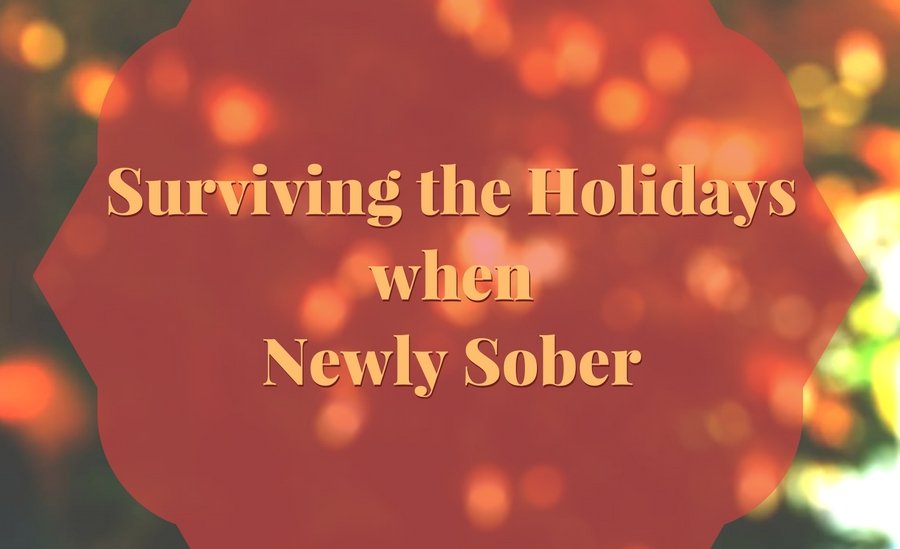 16 Dec

Surviving the Holidays when Newly Sober

The average day in recovery has many challenges, like managing guilt, confronting triggers, and rebuilding relationships, to name a few. Over the holidays, individuals in recovery are often forced to confront multiple challenges simultaneously. So how does one maintain sobriety in the face of so many stressors?

We've discussed strategies for managing stress at holiday parties, but the expectations and anticipation leading up to these celebrations can be just as triggering.  So we're taking a moment to address general seasonal stressors and how to combat them.

Confronting the Ghost of Substance Use Past:

There's an inherent element of nostalgia to the holidays. As we prepare for upcoming celebrations, it's natural to reflect on past years. This trip down memory lane can be painful for those in recovery, as the memories of holidays that were negatively impacted by substance use can trigger feelings of anxiety, guilt, or embarrassment.

It might not be possible to avoid these feelings, but you can work through them. How?

TALK ABOUT THEM

Talk with a counselor, a mentor, or a trusted friend. If you attend a support group, bring it up there – you might be surprised by the number of people who are feeling the same way. Additionally, it would give veteran members the opportunity to offer advice on overcoming these feelings.

It's also important to recognize that those holidays are in the past. As much as you may like to, you can't change what has already happened.

But YOU have changed. You decided to seek, or accept, help. You chose to work through the challenges of embracing sobriety instead of giving up.  Even if you feel like you have a long way to go, you have already made incredible progress.

You have changed, and you are not destined to relive past holidays this year.

Preparing for Recovery Holidays Present

The benefit to thinking about past holidays is that you can learn from them.

Our holiday get-togethers with friends and family are fairly similar from year to year. Knowing what to expect will help you enjoy yourself as well as prepare you for any challenges the day may bring.

In order to prepare, think about:
What's it like when your family gets together? Is the day pleasant, or does it end in a fight?
Are there family members that you just don't see eye-to-eye with? That will trigger you?
Will there be alcohol, or other substances, at the event?
Does the day become more challenging after a certain time?
Ex: Dinner is always followed by dessert and copious amounts of wine. People tend to over-indulge and become argumentative.

Once you have an idea of possible triggers, you can prepare for them. These strategies for managing triggers and keeping stress in check will help you get through the day. And remember: you are not obligated to do anything that makes you uncomfortable or puts you at risk. It's okay to turn down invites, or leave a party early, if you are not comfortable being there.
Building the Foundation for Holidays Future
To reflect and celebrate your life in recovery, consider creating new holiday traditions! They'll not only give you something to look forward to each year, but will also help distract you from the stress the holidays can cause.
Want to spend more relaxed holiday time with close friends and family? Consider these cozy at-home activities:
Deck the Halls: Invite friends and family over to decorate for the holidays!
Gingerbread Construction: Throw a gingerbread house-making contest!
Holiday Movie Marathons: Bunker down with PJs, popcorn, and your favorite people to enjoy beloved holiday classics!
DIY Holidays: Spend a day making crafts with the people you love! It also serves as the perfect opportunity to get a head start on homemade gifts!

In recovery, the day after can be just as difficult as the holidays themselves. Establishing a post-holiday ritual is a great way to combat this. Whether it's meeting up with a few friends for brunch the next day or volunteering at a local organization, find something to help you fight the post-holiday blues.
Living in recovery is a celebration in its own right. It is the knowledge that you can enjoy every day to the fullest, even when the days are challenging, because you have the skills and support necessary to thrive. Use thee skills and lean on your support systems this holiday season, and you'll be able to enjoy each day to the fullest!