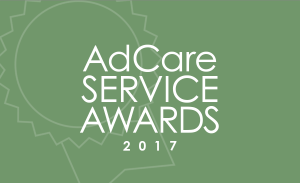 05 Jul

AdCare Service Awards

AdCare Employees Receive Red-Carpet Treatment at Service Awards Dinner June 8 at Holy Cross College Hogan Center.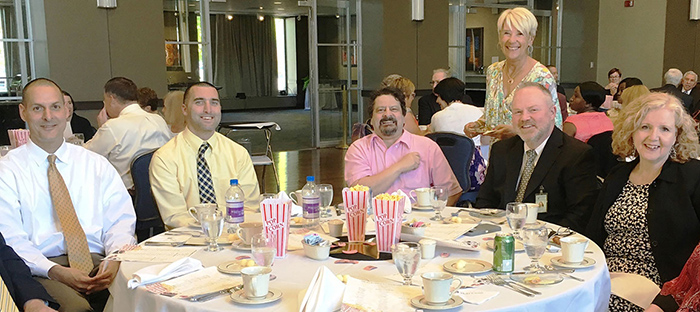 25 YEARS
Carol Derby, RN, BSN, Nursing, and Mary Emery, Dietary, were recognized for 25 years of service to AdCare Hospital. In presenting their awards, Chairman and CEO David W. Hillis said, "AdCare is fortunate to have Carol Derby, retired director of nursing, employed part time to orient new RNs, LPNs, and CNAs." Dietary Supervisor, Mary Emery, "is always ready and willing to accommodate our patients and staff at special events and every day," said Mr. Hillis.
20 YEARS

Joseph Burgwinkle, First Contact Services; Kathleen Coakley, Nursing; Ronald Meagher, Administration; and Judi Osborne, First Contact Services, were recognized for 20 years of service.
15 YEARS
Roxanne Arakelian, Warwick Outpatient; Joan Bertrand, Vice President of Human Resources; Jose Garcia, Housekeeping; Jeffrey Hillis, President of AdCare Hospital; Christine Judycki-Crepeault, Chief Financial Officer ; Mary Kingori, Nursing; Diedre Quealey, First Contact Services; Mark Rebello, Counseling.
10 YEARS
Wilfred Allaire, III, Nursing; Susan Audette O'Neil, Transportation, Arthur Centanni, Quincy Outpatient; Beth Chludenski, Clinical Service; Cynthia Gaines, Counseling; Linda Harrington, Boston Outpatient; Winthrop Huyghue, Nursing; Donald Johnson, Counseling; Jane Jolly, Worcester Outpatient; Steven Pappas, Transportation, Jeanne Wilbur, Professionals, Inc.
5 YEARS
Yesenia Alicea, West Springfield Outpatient; Franklina Apeagyei, Nancy Apholt, Gifty Asare, Nursing; Padmaja Bachalli, Fiscal; Richard Berry, Counseling; Debra Bettez, Barbara Boahene Bruce, Nursing; Jeffrey Comeau, Counseling; Comfort Danso, Nursing; Michael Gemelli, Worcester Outpatient; Luis Gonzalez, Counseling; Elizabeth Greene, Maegan Holland, Worcester Outpatient; Sara Jolly, IT; Cynthia Lisiecki, Medical Records; Karen MacDonald, Community Services; Mohamad Och, MD, Professionals, Inc.; Susan Olszta, Leadership; Ross Dedrick, Transportation; Rafael Salas, First Contact Services; Thomas Stevenson, Transportation; Lynne Walker, Nursing.
AdCare's full continuum of alcohol and drug care encompasses hospital-level treatment in Worcester, MA; inpatient detoxification and residential treatment in North Kingstown, RI; and outpatient services throughout Massachusetts and Rhode Island. AdCare … your recovery begins here.
Contact: Mary Beth Papcsy, AdCare Media Relations, mbpapcy@adcare.com (508) 799-9000, ext. 4058.
Save
Save
Save
Save
Save
Save
Save
Save
Save