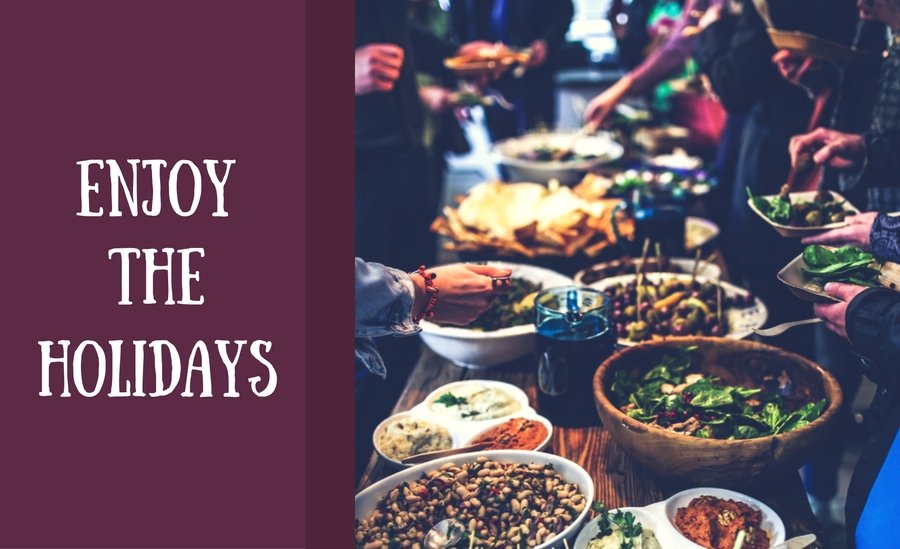 22 Nov

Keeping the Jolly in the Holidays

We love the holidays for the extra time we get to spend with loved ones! But the stress of gift-giving, parties, and seeing those relatives you just don't see eye-to-eye with can make the holidays a stressful event. Holiday stress can be especially difficult for those in recovery, who may be tempted to turn to substances in order to cope.

Here's the good news: there are easy ways to manage holiday stress without turning to substances. By following these tips, you'll maintain sobriety, keep stress at bay, and share the joy of the season!

1. Review the Day Ahead

It's been said a thousand times, and it will be said a thousand more: sobriety takes work. It requires focus and preparation, and maintaining sobriety during the holidays is no different.

Before you start your day, go over your schedule. What does your day look like? What will you be doing today? What relapse-prevention strategies will help you most today?

2. Evaluate Relapse-Risk for each Event

Not all social situations are created equal. The stress from meeting a friend to go shopping may be more or less than attending a big family party.

Rank each event as low, medium or high risk to your recovery. Stick to low-risk situations if you're in early recovery. If you're further along in recovery and are comfortable attending medium or high-risk scenarios, make sure you have a plan in place. No matter where you are in recovery, it's always a good idea to have a way home that doesn't rely on someone else – that way you can leave whenever you feel uncomfortable.

3. Pack your own Party Supplies

Worried your host may not have recovery-friendly food and drink options? Bring your own! You will enjoy yourself more and be able to avoid temptation knowing there are options for you.

4. Eat!

Being hungry can lead to anxiousness and irritability, which can also make you impulsive. Avoid temptation with a full stomach – have a meal or a snack every three hours.

5. Be Aware of your Triggers

HALT – hungriness, anger, loneliness, and tiredness are the most common triggers for relapse. Manage these, and other individual triggers, in check by taking care of yourself both physically and mentally.

6. Keep One Stress Management Strategy Handy

Do breathing exercises help you unwind in stressful situations? Does a quick walk help clear your head? Have one reliable stress management technique, and use it if you begin to feel stressed. It's okay to excuse yourself and take a moment to relax.

7. Distractions are Key

You may not always be able to step away from your stressor, so have a distraction handy. Bring a sober companion with you and talk with them when you need to regroup. Help the host with food prep or cleaning to keep your hands, and mind, busy.

8. Have a Script Ready

You have the right to share, or not share, with your family and friends that you're in recovery. If you don't want to share, have a few go-to lines for turning down drinks or other substances. "No thank you," is always a great go-to. If you want something more specific, try:

• No thanks, my doctor told me to cut back
• I'm not drinking today, but thank you
• I'm sticking to water, I'm getting over a cold
• I'm all set right now, thank you

No matter how polite and clear you are, some may push you. Repeat yourself and be firm; if they don't stop pressuring you, walk away from them.

9. Power Thru Cravings

Cravings typically only last 20 minutes. If you experience a craving, use both your stress management techniques and your go-to distractions to keep yourself occupied for those 20 minutes. Remind yourself what's at stake if you give in to the craving, and that it's not worth the risk.

10. Use your Support Systems

Attend group meetings? Consider going to a few extra sessions during the holidays. Have a friend or family member who's super helpful and understanding? Spend a little extra time with them, maybe running holiday errands together. And avoid temptation by avoiding those who are actively using substances.