22 Mar

College Students at High Risk for Substance Use Problems
Young people between the ages of 18 and 25 are at high risk of developing a substance use disorder. In 2016:
Many factors contribute to college drinking and drug use, such as peer pressure, being away from home with less structured time and supervision, attempts to get ahead, and stress. Alcohol and other drug use can quickly become problematic. Both alcohol and illicit drug use cause changes in brain chemistry. These changes can be especially detrimental to young people, whose brains do not develop fully until their mid-20s. Alterations in the reward, memory, thinking, and learning pathways can also cause long-term issues and difficulties, including problems with substance use later in life.
Dangers of Underage and Binge Drinking
Drinking has traditionally been part of most college cultures. In terms of living arrangements, alcohol consumption is the highest among students living in fraternities and sororities.  Although 21 is the legal age for alcohol consumption, placing most college students underage, this doesn't seem to stop the beer and liquor from flowing on campuses.  The National Institute on Alcohol Abuse and Alcoholism (NIAAA) publishes that nearly 60% of college students between the ages of 18 and 22 drank alcohol in the past month (based on a 2014 national survey), and two-thirds engaged in binge drinking.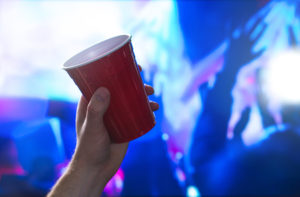 Binge drinking is a particularly dangerous pattern of alcohol consumption that involves raising a person's BAC (blood alcohol concentration) to at least 0.08 g/dL in a span of two hours or less, usually meaning that a man consumes about five drinks or a woman consumes four drinks in that time period.
"Study Drugs"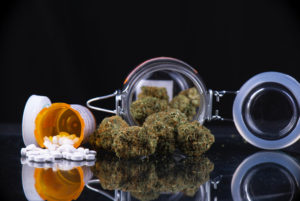 College students are regularly looking for a way to get an edge in school. As a result, they may be tempted to misuse prescription stimulants, such as those prescribed to treat ADHD. These "study drugs," as they are often called, may help a studentto stay awake and focused longer, enabling them to cram for an exam or finish a term paper.
The opioid crisis in Massachusetts is at epidemic levels. In 2018, nearly 2,000 residents died from drug overdoses, according to Massachusetts DPH statistics. Prescription drug addiction can potentially lead individuals to turn to other more easily obtainable drugs, such as heroin and the potent man-made opioid, fentanyl. As such, many organizations including colleges have taken measures to address this crisis by, for example, making Narcan (an overdose reversal drug) available to the general public on campuses.
Marijuana
Marijuana, which has recently been legalized for recreational use by adults ages 21 and older in Massachusetts, is another common drug of abuse on college campuses. The legalization of marijuana may make the drug more accessible for college students and cause them to view it as less risky, which in turn, may lead to increased use on campuses.
AdCare Offers Specialized Services for Young Adults
Virtually every college has some form of addiction prevention, treatment, and recovery support options available to students. Campus services are often intended as a first intervention for students before entering into a more complete addiction treatment program. Experience matters. For nearly 45 years, AdCare Hospital has provided comprehensive alcohol and drug treatment to individuals and families.
In 2018:
10% of the patients treated at AdCare Hospital were between the ages of 18 and 25
13% of the patients treated at AdCare Outpatient Services were young adults
AdCare Outpatient Services provide specialized programming for young adults such as our Young Adult Early Recovery Groups. Individual and Family Counseling is also available at all of our outpatient locations. For more information about AdCare services and programs, please call us at 1-800-ALCOHOL or 800-252-6465 or visit AdCare.com